Hyatt (left) took a yoga lesson from a visiting American yoga instructor and is now teaching the young residents of her village, Zataara, a small village on the outskirts of Bethlehem in the West Bank.
PHOTOGRAPHED BY TANYA HABJOUQA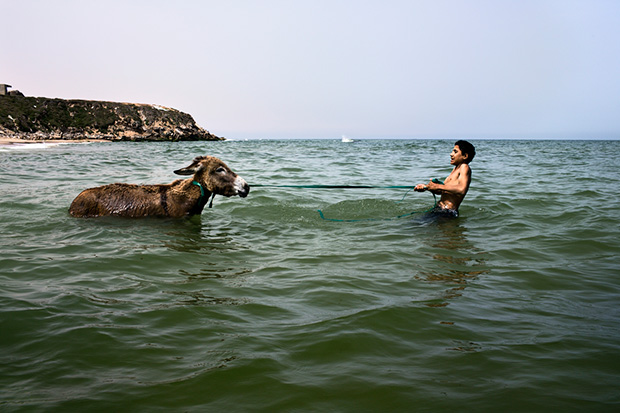 A boy attempts to bathe a reluctant donkey in the sea on the outskirts of Gaza's Deir al-Balah refugee camp.
East Jerusalem-based Tanya Habjouqa's photographs of daily life in the West Bank, Gaza, and East Jerusalem are striking in a way they shouldn't be. People doing normal things that many of us do on a daily basis should not be such arresting images, and yet they are, remarkably so. Rather than focusing on conflict, Habjouqa, who won a World Press Photo award for this work, has captured moments not generally seen from this region. While what happens on many news reports is also important, focusing everything on conflict gives an excessively narrow view of a region and a people, both of which possess rarely acknowledged complexity. Seeing Habjouqa's portrayal of the fabric of daily life, small moments, people enjoying themselves, even in occupied and unstable lands, helps create a fuller picture of the people who live in these areas.
"More than four million Palestinians live in the West Bank, Gaza, and East Jerusalem, where the political situation regularly intrudes upon the most mundane of moments," Habjouqa writes. "Movement is circumscribed and threat of violence often hangs overhead. This creates the strongest of desires for the smallest of pleasures, and a sharp sense of humor about the absurdities that a 47-year occupation has produced. This is an exploration of the moments where ordinary men and women demonstrate a desire to live, not just simply survive."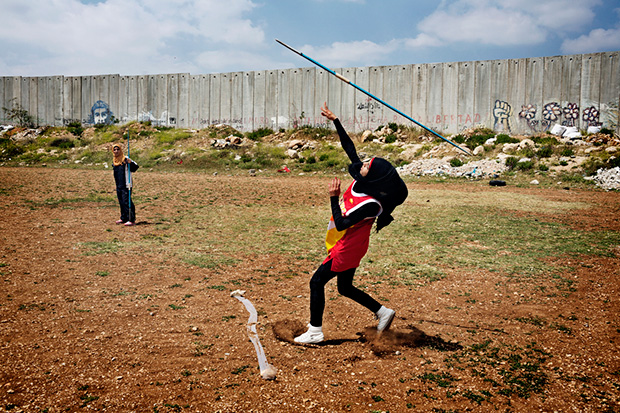 Students from the Al-Quds University javelin team wrap up the last practice before summer vacation in the West Bank city of Abu Dis, next to the Israeli Separation Wall.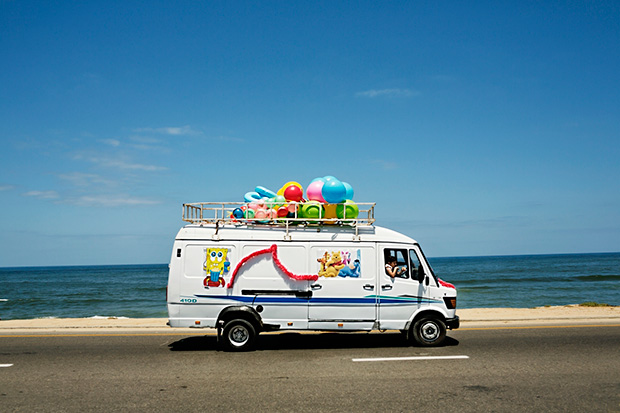 A toy store van drives along Gaza's beach highway.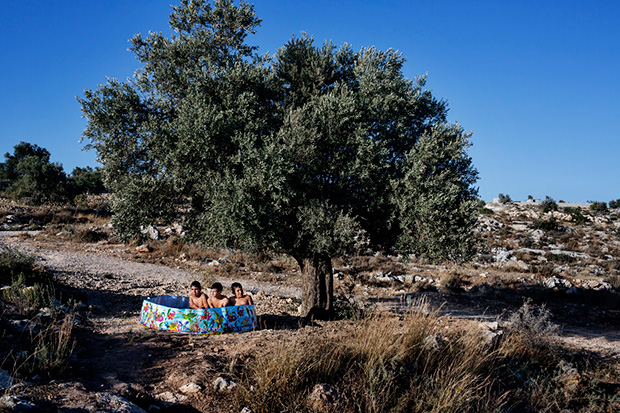 Boys splash in a plastic swimming pool under an olive tree in the West Bank village of Kufr Ni'ma. Though the water supply to Israeli settlers in the West Bank is abundant and uninterrupted, many Palestinian communities nearby suffer from chronic water shortages.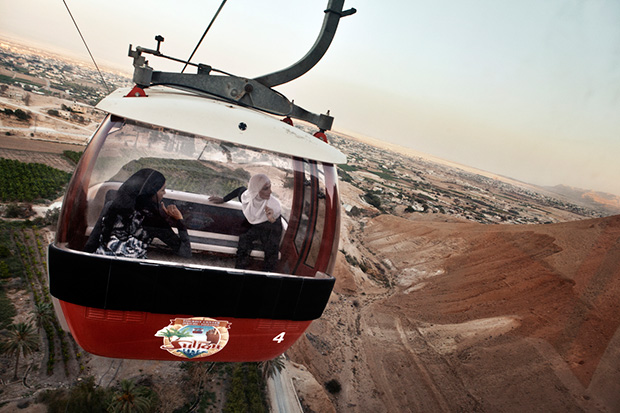 Young women enjoy a ride up the cable car to the biblical "Mount of Temptation" in the West Bank town of Jericho.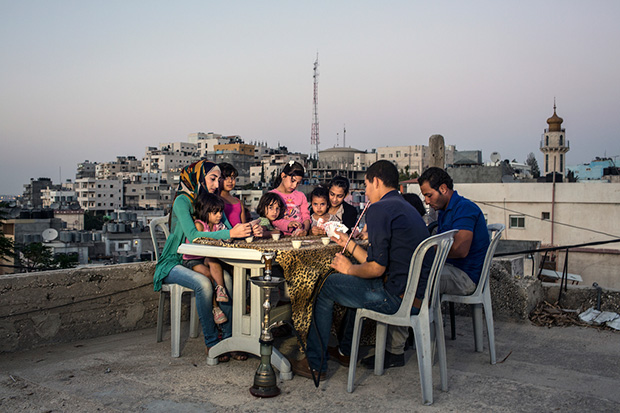 Family and friends play cards on the roof in the Dheisheh Refugee Camp of Bethlehem. With narrow streets and limited space, the roof is often a refuge for many families to sit together and enjoy the breeze.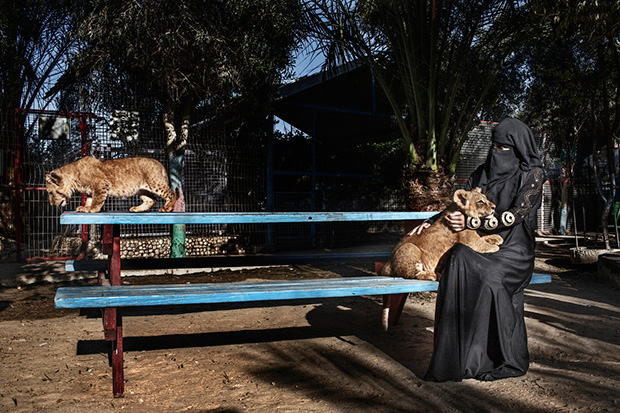 A woman plays with two baby lion cubs born in the Rafah Zoo. Gaza once had six zoos, but two were closed due to financial losses and the deaths of large animals. Gazan zoo keepers are renowned for creativity with limited options, having famously painted a donkey as a zebra, smuggling in animals through the tunnels, and stuffing them once they are dead as animals are not easy to replace.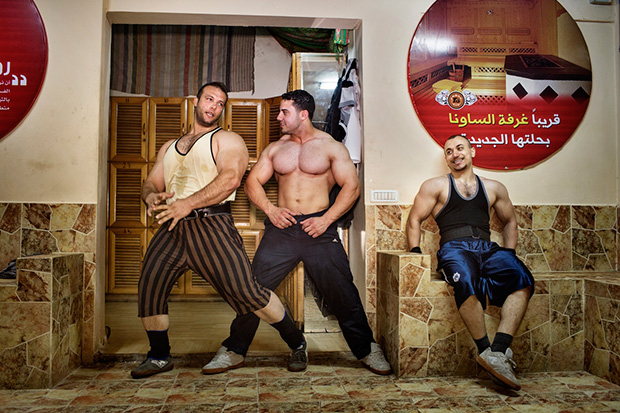 Gazan body builders jovially strike poses after a workout.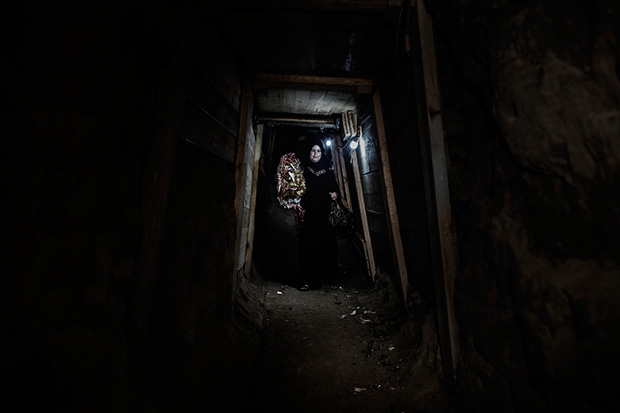 A woman in Gaza without a travel permit marches through an underground tunnel on her way to a party in Egypt. Recently, the Egyptian army has restricted movement of goods and people through the tunnels, which are an essential lifeline for the 1.7m population of the coastal enclave under Israeli control. For a vast majority of Gazans, the tunnels remain the main passage in or out.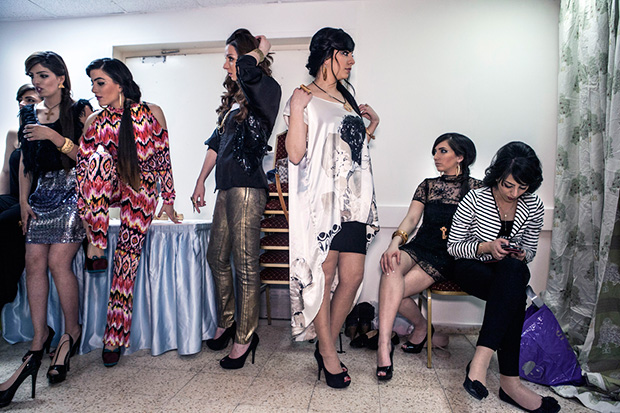 Young ladies model in a fashion show at the Intercontinental Bethlehem for upcoming designer Nadya Hazbunova.
At the Qalandia checkpoint in the West Bank, accompanied by a sheep for the Eid celebration, a young man enjoys a cigarette on the last evening of Ramadan.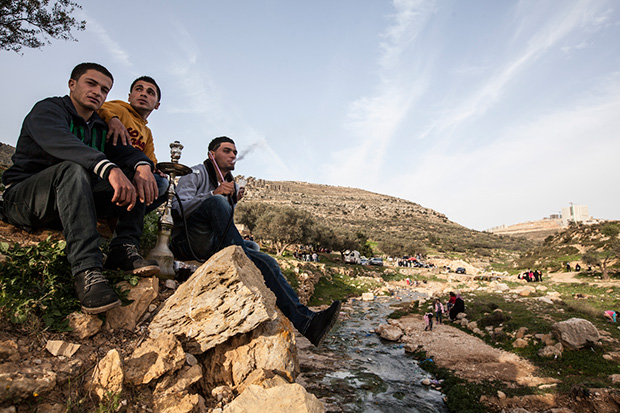 Young men smoke a shisha water pipe in Ein Qiniya, a nature spot for families near Ramallah. Three Israeli settlements are perched nearby.