"To be an active member of the community, to be a responsible citizen and to engage politically have always been part of my awareness and part of my life."
- Scarlett Johansson, before SodaStream became part of her life
"If you already have the spotlight shining on you, it's great to direct that toward a cause you believe in and that you can stand behind. It's nice to be a voice for people who don't have a voice."
- Scarlett Johansson, before she got paid to be the voice of SodaStream
"I'm not here to be diplomatic ... All causes worth fighting for are going to be controversial."
- Scarlett Johansson, speaking on causes she is not paid to fight for
Scarlett Johansson has finally issued a
statement
in response to
criticisms
over her new role as "global ambassador" for the Israeli settlement - produced SodaStream.
Yet her statement, at 259 words, does not directly address any of the criticisms against her. And though she expresses pride in being an Oxfam ambassador, she does not acknowledge
recent statement
made by Oxfam concerning
So how does Johansson respond? Let's break it down:
She begins by referring to criticism directed at her and SodaStream as mere "noise." Presumably this "noise" includes the "dialogue" with Johansson that Oxfam says it has been engaged in.
There's a term for the kind of "economic cooperation and social interaction" that Johansson is thinking about. It's called fair trade. Sweatshops are not fair trade. Maquiladoras are not fair trade. And as I shall explain below,
SodaStream's settlement factory is not fair trade
.
Here Johansson employs a slogan promoted by SodaStream public relations: "building bridges."
Normally SodaStream markets itself through slogans such as "Set the bubbles free" or "Simple. Soda. Smart." It also portrays itself as "guilt free" - being a supposedly healthier alternative to Coca-Cola and Pepsi (although water is healthier than all three) and more environmentally sound (it outrageously claims to have "saved the world from"
4 billion bottles
.)
But in response to criticisms against its illegal settlement factory, SodaStream began employing the slogan "building bridges," which is
constantly
evoked
by its CEO David Birnbaum whenever the issue of
boycott, exploitation, and Palestinian land theft
is brought up.
So now not only is SodaStream saving the world from diabetes and environmental destruction, it is also bringing peace to the Middle East.
Contrary to Johansson's depiction of neighbors "working alongside each other," the reality of Ma'ale Adumim is much different. The nearly 37,000 Israeli citizens who live outside of Israel's borders in Ma'ale Adumim are almost
entirely Jewish
. Meanwhile, the Palestinian employees of the SodaStream factory are shipped in to Ma'ale Adumim's industrial zone and do not interact with the Israeli residents.
Originally lured by
Israeli financial incentives
, SodaStream (at the time, Soda Club) established its "
principle manufacturing facility
" outside of the Israel border in Area C, an area that constitutes approximately 61% of the West Bank.
Although
150,000
Palestinians live in Area C, more than 99% of the land is closed to Palestinian development, while
68% or more is reserved for illegal Israeli settlement use and expansion - a policy enforced by Israeli soldiers and militarized bulldozers
.
According to
numerous
World
Bank
reports
, the chief impediment to Palestinian economic growth is Israeli restrictions over Area C, which have "constrained growth, investment and consequently job creation."
Because of these restrictions, Palestinians must resort to working in Israeli-owned "
industrial parks
" - located on Palestinian land, but ultimately serving Israeli industry. Although SodaStream boasts that its factory - located in the Mishor Adumim industrial park in the illegal settlement of Ma'ale Adumim - provides Palestinian employment,
its very existence as part of the Israeli settlement regime is what prevents Palestinian self-sufficiency and economic development - essentially preventing a viable Palestinian future, while guaranteeing a captive labor force
.
SodaStream pretends to be the solution to a problem it has helped to create, and from which it profits by exploiting land and labor.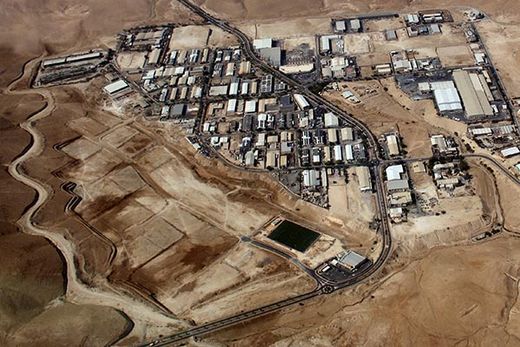 In a
PR video
to counter the boycott campaign, SodaStream CEO Daniel Birnbaum claims that he maintains the West Bank factory out of an "obligation" to the workers - as if it were a Goodwill store, existing merely to provide jobs. Birnbaum further claims that "the easiest thing for me to do would be to shut down this facility," but instead his goal is to "build bridges."
Yet in
filings
with the US Securities and Exchange Commission, SodaStream claims that leaving the West Bank would constitute a "risk factor" for the company, which "may divert the attention of management, require the expenditure of significant capital resources and ... may limit certain tax benefits."
From the very start, Mishor Adumim was not intended to benefit Palestinians.
The mayor of Ma'ale Adumim, Benny Kashriel,
has stated
that he wants his settlement "to be a legal part of the land of Israel, but to be economically independent of Jerusalem ... That will be accomplished thanks to Mishor Adumim."
Kashriel has also stated that "Ma'aleh Adumim was established to break Palestinian contiguity ... [I]f we weren't here, Palestinians could connect their villages and close off the roads.
Ma'aleh Adumim necessarily cuts the West Bank in two
."
Nevertheless, Johansson manages to use her praise of SodaStream as a segue into Oxfam:
In other words, SodaStream is like Oxfam - only publicly traded. And the solution to the poverty that Johansson witnessed in her Oxfam-sponsored trips to South Asia and East Africa is the construction of illegal SodaStream factories in those communities -
after placing their lands under military occupation, displacing their homes, and preventing them from controlling their own economic development
.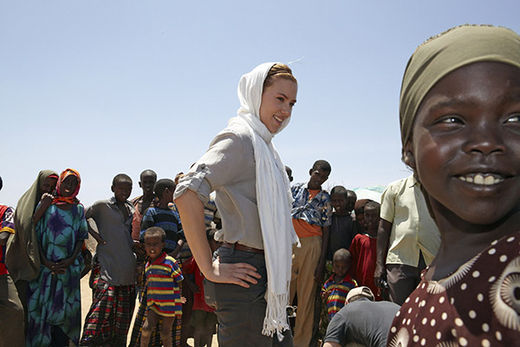 To be clear, the role of Oxfam "global ambassadors" is not to advise on policy but rather to promote fundraising efforts. They are flown to impoverished countries for photo opportunities and to promote a feel-good vibe that brings in the dollars. Scarlett Johansson happens to have the highest profile of Oxfam's "ambassadors." In 2008,
a single 20-minute date with Johansson, auctioned off, netted Oxfam £20,000
. Oxfam has so far decided that Johansson is too financially valuable to drop, despite her embarrassments to the organization.
It is nice that Johansson trusts the consumer to make the right decisions. However, that is not what SodaStream is paying her for with its "
multi-year partnership
." Paid celebrity endorsements are not designed to empower or educate consumers.
Furthermore, the issue is not about consumers "mak[ing] their own educated choice that is right for them." For SodaStream, Palestinians in the West Bank are the labor force, not the target market. What is "right" for the consumers is not what is right for the laborers who manufacture the product.
Consumers may have a choice, but the Palestinians do not.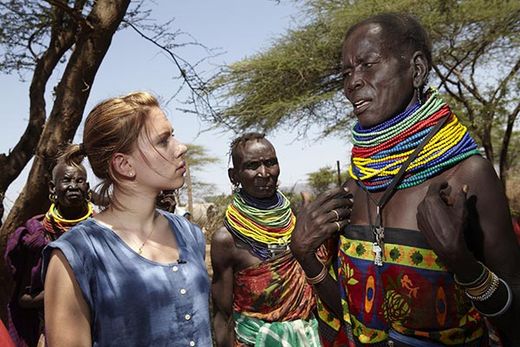 And despite Johansson's belief in "transparency," we will not find the SodaStream "global ambassador" questioning
her sponsor's deceptive use of the "Made in Israel" label for items produced in the occupied West Bank
.
Recall that at the beginning of her statement, Johansson referred to criticism of her SodaStream endorsement as "noise." By the end of her short statement, she condescendingly portrays the same criticism as a "conversation" for peace that she is proud to have contributed to with her poor decisions.
After she issued her statement, Oxfam appended its initial response to the controversy with the
following
:
Scarlett Johansson initially described her partnership with SodaStream as a "
no-brainer
," which in a way is true.
Taking money for endorsements may not require much thought, but taking a stand does.
The question now is whether Oxfam can stay true to its principles enough to compel Johansson to break her ties with SodaStream or else break its ties with Johansson.